Green Bean Salmon Salad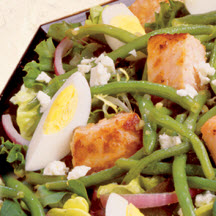 A heart-healthy, satisfying green bean and salmon salad garnished with wedges of hard-boiled eggs and crumbled feta cheese.
Recipe Ingredients:
1 (12-ounce) bottle T. Marzetti Champagne Dressing
1 pound frozen French-style green beans, thawed and drained
2 tablespoons minced garlic
1 pound salmon filets
2 tablespoons olive oil
1 tablespoon butter or margarine
1 package spring mix salad blend
1 red onion, chopped
6 hard-cooked eggs, sliced
8 ounces feta cheese, crumbled
Cooking Directions:
Mix together dressing, green beans, garlic and salt and pepper, then set aside.
Cook salmon in olive oil and butter until done. Cute into bite size pieces.
Cover a large platter with lettuce.
Pour green bean and dressing mixture over mixed salad blend.
Place salmon, red onion and egg slices over green beans.
Top with crumbled feta cheese. Serve immediately.
Makes 6 servings.
Recipe and photograph provided courtesy of T. Marzetti Company, member of The Association For Dressings and Sauces.