Grilled Potato Primavera Salad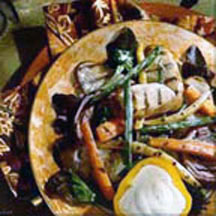 A cornucopia of grilled vegetables gives this hearty potato salad extraordinary character. Serve as vegetarian entrée salad or as a side salad.
Recipe Ingredients:
2 pounds Idaho russet potatoes, scrubbed
1/2 pound yellow wax beans, cleaned and trimmed
1/2 pound green string beans, cleaned and trimmed
1/2 pound sugar snap peas, cleaned and trimmed
1 stalk broccoli, cleaned and cut into 6 spears
1 large carrot, cleaned and cut into 6 strips
1 red onion, thinly sliced
1 bunch green onions, cleaned and trimmed
1 tablespoons olive oil
1/3 cup light ranch salad dressing
6 red leaf lettuce leaves
6 sprigs baby arugula
Cooking Directions:
Place potatoes in a large saucepan, cover with water and cook 15 to 20 minutes, Drain and set aside.
Blanch the beans, peas, broccoli and carrots in boiling water. Remove to a large bowl of ice water. Drain and pat dry.
Slice potatoes lengthwise 1/2-inch thick.
In a large bowl, combine potatoes and blanched vegetables. Add red onion, green onions and olive oil, tossing lightly to coat vegetables.
Prepare grill.
Arrange potatoes and vegetables in adjustable grill basket.
Grill vegetables over medium coals, rotating occasionally, 5 to 10 minutes for each side, until potatoes and vegetables start to brown.
Place grilled potatoes and vegetables in a large bowl, drizzle salad dressing over all, tossing to coat evenly.
Serve the dressed potato and vegetable mixture over a bed of red leaf lettuce and garnish with a sprig of baby arugula.
Makes 4 to 6 servings.
Recipe and photograph provided courtesy of The Association For Dressings and Sauces.