Grilled Orzo Salad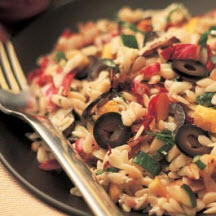 Recipe courtesy of California Ripe Olives.
Recipe Ingredients:
1 1/2 cups (6-ounce) pattypan squash, sliced 1/2-inch thick
1 1/2 cups (6-ounce) zucchini, sliced lengthwise 1/2-inch thick
5 ounces radicchio, quartered
1 1/2 tablespoons olive oil
1/2 teaspoon kosher salt
1/2 teaspoon coarsely ground black pepper
2 1/2 cups (1 pound) cooked orzo pasta, cooled to room temperature
2/3 cup sliced California Ripe Olives
2 tablespoons red wine vinegar
2 1/2 teaspoons balsamic vinegar
1 tablespoon minced shallots
2 teaspoons chopped thyme
1/4 cup chopped basil
1/4 cup (2-ounce) goat cheese, crumbled
1/2 cup (1 1/2-ounce) toasted sliced almonds
Cooking Directions:
In a large mixing bowl, toss squash, zucchini and radicchio with 1/2 tablespoon of olive oil; season with salt and pepper.
Grill vegetables over medium-high heat for 2 to 3 minutes per side until marked and tender. Transfer to a clean cutting board and allow to cool slightly.
When cooled, dice squash and zucchini into 1/4-inch pieces and shred radicchio into 1/4-inch strips (removing the core), then place into a large mixing bowl. Toss in orzo and California Ripe Olives and set aside.
In a small mixing bowl, whisk together remaining olive oil, red wine vinegar, balsamic vinegar, shallots and thyme. Pour into vegetable and pasta mixture and stir until evenly combined.
Mix in basil, goat cheese and almonds just before serving.
Makes 4 servings.
Recipe and photograph courtesy of California Ripe Olives.