Gruyère with Beets and Pickled Quince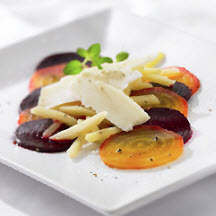 A simple, yet elegant first course salad of homemade pickled quince, sliced beets and thick slices of nutty, slightly sweet Gruyère cheese. Recipe by Chef Scott Johnson.
Recipe Ingredients:
2 ounces (1/4 cup) water
1 ounce (2 tablespoons) cider vinegar
1 ounce (2 tablespoons) honey
2 quinces, peeled, seeded, cut into 1/8-inch strips
2 beets, cooked, peeled, sliced thin (1/8 inch crosswise)
Salt and pepper to taste
6 ounces Wisconsin Emmi-Roth Kase Grand Cru® Gruyère cheese, cut in 4 thick slices
Cooking Directions:
In small saucepot, combine water, vinegar and honey; bring to a boil. Add quince. Cover and refrigerate for 2 hours or overnight.
Arrange beet slices on 4 serving plates. Top with quince. Season to taste. Place cheese slices over quince.
Makes 4 servings.
Recipe and photograph courtesy of Wisconsin Milk Marketing Board, Inc.