Home Garden Tomato Caprese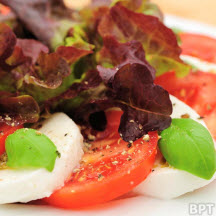 Robert Irvine, Food Network celebrity chef, uses only the freshest and most colorful seasonal ingredients when preparing dishes for his family, as in his recipe here for the classic Italian Caprese salad.
Recipe Ingredients:
Balsamic Reduction Dressing:
1/2 cup balsamic vinegar
Salad:
4 large tomatoes, sliced
1 pound fresh mozzarella cheese, sliced
1/2 bunch of fresh grown basil
2 cups baby arugula
Juice from half a lemon
1 teaspoon extra virgin olive oil
2 tablespoons extra virgin olive oil
2 teaspoons balsamic reduction
1 dash sea salt
1 dash fresh ground pepper
Cooking Directions:
For Balsamic Reduction Dressing: Reduce 1/2 cup of balsamic vinegar in a small pot on low heat until vinegar is reduced by two-thirds. Set aside and allow to cool to room temperature.
For Salad: On a large platter, place the sliced tomatoes, sliced fresh mozzarella and basil sprigs. Toss the arugula with the lemon juice and 1 teaspoon of extra virgin olive oil in a mixing bowl. Arrange the salad in the center of the platter. Drizzle the tomatoes and mozzarella with the rest of the olive oil and balsamic reduction. Garnish with sea salt and fresh ground pepper.
Makes 4 servings.
Recipe created by Chef Robert Irvine.
Recipe and photograph provided by www.transitions.com via Brandpoint Content; Copyright 1996-2014.