Jerked Prawns Salad with Parmesan Dressing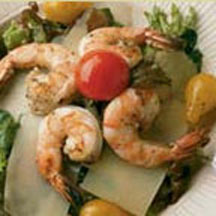 Fiery-spiced and grilled prawns served atop a salad of mesclun tossed with Parmesan vinaigrette and garnished with cherry tomatoes and shaved Parmesan cheese. Recipe by Chef Daniel Strongin.
Recipe Ingredients:
Marinade:
2 tablespoons jerk seasoning marinade
2 teaspoons extra-virgin olive oil
2 tablespoons fresh lemon juice
18 prawns (12 per pound or smaller), peeled and deveined
Dressing:
1 large garlic clove
1/4 cup chopped Italian flat-leaf parsley
6 to 8 fresh basil leaves
1/2 cup extra-virgin olive oil
1/4 cup balsamic vinegar
1 tablespoon lemon juice
Salt and freshly ground black pepper
Salad:
1 pound mesclun
24 red or yellow cherry tomatoes
1 cup (4 ounces) Wisconsin Parmesan cheese, shaved
Cooking Directions:
For Marinade: In a medium bowl combine jerk seasoning, oil and lemon juice. Add shrimp. Marinate shrimp 1 hour at room temperature. Grill shrimp over medium heat about 2 1/2 minutes each side. Chill until serving.
For Dressing: In blender container add garlic, parsley, basil and half the olive oil. Purée. Add remaining oil in thin stream. Finish with vinegar, lemon juice, salt and pepper.
To Serve: Toss mesclun with dressing. Divide among chilled salad plates. Arrange prawns, tomatoes and shaved Parmesan cheese over salad.
Makes 6 servings.
Recipe and photograph courtesy of Wisconsin Milk Marketing Board, Inc.