Kale Salad with Hazelnut-Balsamic Vinaigrette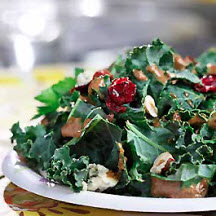 Recipe courtesy of CanolaInfo.org.
Recipe Ingredients:
4 cups chopped kale
2 tablespoons chopped, toasted hazelnuts
2 tablespoons dried cranberries
2 tablespoons blue cheese crumbles
1/4 cup flat leaf parsley, whole leaf
Hazelnut-Balsamic Vinaigrette:
1/3 cup balsamic vinegar
1 tablespoon water
2 teaspoons Dijon mustard
1/2 teaspoon salt
1 shallot, minced
1 clove garlic, minced
1 tablespoon fresh chopped thyme
1/2 teaspoon ground black pepper
1/4 cup crushed, toasted hazelnuts
1/2 cup canola oil
Cooking Directions:
In large bowl combine, kale, hazelnuts, cranberries, blue cheese and parsley. Set aside.
For Hazelnut-Balsamic Vinaigrette: In medium bowl, combine balsamic vinegar, water, Dijon mustard, salt, shallot, garlic, thyme, pepper and hazelnuts. Using immersion blender, combine ingredients and slowly add canola oil until emulsion forms.
Add vinaigrette to kale salad, toss and serve.
Makes 4 servings.
Nutritional Information Per Serving (1/4 of recipe): Calories: 410; Total Fat: 36g; Saturated Fat: 3g; Cholesterol: 5mg; Total Carbs: 19g; Fiber: 3g; Protein: 6g; Sodium: 450mg.
Recipe and photograph courtesy of CanolaInfo.org.