Lime Marinated Seafood Salad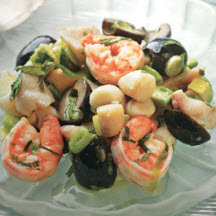 Recipe courtesy of California Ripe Olives.
Recipe Ingredients:
1/2 pound fish fillets (ocean perch, red snapper, rockfish or salmon fillets), cut into 1-inch chunks and poached
1/4 pound small bay scallops, poached
1/4 pound medium uncooked shrimp, peeled, deveined and poached
1 cup diced avocado
3/4 cup olives, halved
1/2 cup chopped green onions
1/4 cup lime juice
3 tablespoons chopped cilantro
3/4 teaspoon kosher salt
Pinch of cayenne pepper
Cooking Directions:
To poach fish and seafood, heat lightly salted water seasoned with lemon or white wine in a pan.
Clean and cut fish into 1-inch cubes. Add fish, scallops and shrimp to water and simmer gently 6 to 12 minutes until fish becomes translucent. Carefully remove fish and seafood from water, place on platter and cool.
In a large mixing bowl, combine snapper, scallops, shrimp, avocado, olives and green onions. Season with olive oil, lime juice, cilantro, salt and cayenne.
Cover and refrigerate for at least 1 hour before serving.
Makes 4 servings.
Recipe and photograph courtesy of California Ripe Olives.