Lime Scallop Salad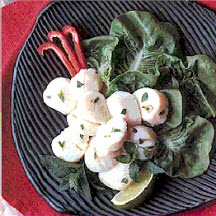 Recipe courtesy of the National Seafood Institute.
Recipe Ingredients:
1 pound sea scallops
1 clove garlic, minced
1 tablespoon vegetable oil
1/4 cup water
1/4 cup lime juice
1 teaspoon grated lime zest
1/4 cup green onions, chopped
1/4 cup fresh mint, chopped
1/4 teaspoon cayenne pepper
1/2 teaspoon salt
1/2 teaspoon freshly ground black pepper
1 ripe avocado, diced
Bibb or Boston lettuce
Cooking Directions:
In a covered saucepan, gently poach scallops with garlic, vegetable oil and water for 3 to 4 minutes, turning once.
Using a slotted spoon, remove scallops to a ceramic or glass bowl.
Rapidly boil down liquid in pan to about 1/4 cup Cool and combine this liquid with remaining ingredients, except avocado and lettuce. Pour over scallops in bowl. Refrigerate for 1 to 2 hours.
Just before serving, peel and dice avocado. Toss gently with the scallops. Serve on the lettuce garnished with additional mint sprigs.
Makes 4 servings.
Recipe and photograph courtesy of the National Seafood Institute.