Loaded Baked Potato Salad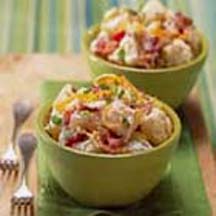 This salad involves everything you would put on a loaded baked potato–sour cream, bacon, cheddar, chives, onion, butter–in a refreshing presentation. Potatoes are great vehicles for flavor, whether they're hot or cold!
Recipe Ingredients:
4 pounds Idaho potatoes, peeled
1 pound bacon, crisply cooked, and chopped into 1/2-inch pieces (fat reserved, if desired)
4 ounces unsalted butter, softened
1/2 cup chopped green onions
2 cups grated or shredded cheddar cheese
1 1/2 cups sour cream (regular or low-fat)
1 tablespoon black pepper
1 teaspoon salt
Cooking Directions:
Cook whole potatoes in boiling, unsalted water until tender. Refrigerate until chilled, then chop into one-inch pieces.
Transfer the potatoes to a large bowl along with the remaining ingredients and thoroughly combine. Add some of the reserved bacon fat if desired.
Chill at least 2 hours before serving. Adjust the seasoning prior to serving.
Makes 2 quarts; 16 (1/2 cup) servings.
Tip: Any condiments or toppings typically added to a loaded baked potato may be used for this recipe.
Recipe and photograph provided courtesy of Idaho Potato Commission.