Marinated Corn Salad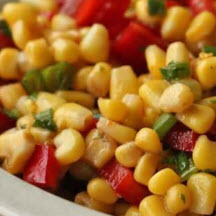 A colorful marinated corn salad with chopped red and green bell pepper, celery, green onions and fresh parsley in a tangy dressing.
Recipe Ingredients:
2 cups yellow corn kernels, about 4 ears (or use frozen)
1/4 cup water
1/4 cup chopped green bell pepper
1/4 cup chopped red bell pepper
1/2 cup chopped celery
3 green onions, sliced
1 tablespoon chopped fresh flat-leaf parsley
1/4 cup vegetable oil
1 1/2 tablespoons cider vinegar
1/2 teaspoon salt
1/2 teaspoon dry mustard
1/4 teaspoon ground black pepper
Cooking Directions:
Combine corn and water in a medium saucepan. Bring to a boil; cover, reduce heat, and simmer 3 to 4 minutes, or until corn is crisp-tender. Drain well.
Combine the corn, green and red bell pepper, and next 3 ingredients in salad bowl. Set aside.
In a small bowl, whisk together the oil and remaining ingredients, mixing well. Pour over vegetables and gently mix to coat well. Cover and chill for 3 to 4 hours before serving.
Makes 6 servings.