Maryland Crab Slaw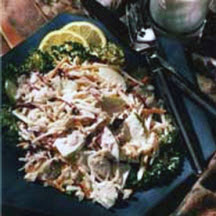 Thinly sliced tart green apples, shredded red and green cabbage, shredded carrots, fresh lemon juice and crabmeat are tossed in a creamy Dijon dressing.
Recipe Ingredients:
Creamy Dijon Dressing:
1/2 cup light mayonnaise or salad dressing
2 tablespoons Dijon mustard
1 1/2 teaspoon Worcestershire sauce
Crab Slaw:
2 Granny Smith apples, cored, seeded, halved and thinly sliced
4 teaspoon fresh lemon juice
2 cups red and green cabbage, shredded
1/2 cup carrots, shredded
1 (6-ounce) can white or lump crabmeat, drained
Cooking Directions:
For Creamy Dijon Dressing: Combine mayonnaise, mustard and Worcestershire sauce to make dressing. Cover and refrigerate.
For Crab Slaw: Combine apple and lemon juice in medium salad bowl. Stir in cabbage, carrots and crabmeat. Add dressing and mix well.
Makes 4 servings.
Recipe and photograph provided courtesy of The Association For Dressings and Sauces.