Mediterranean Quinoa Salad with California Raisins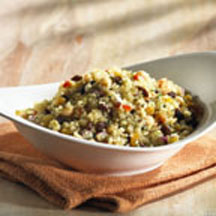 Let the flavors of the Mediterranean dance on your taste buds with this super-grain salad.
Recipe Ingredients:
2 cups water
1 cup quinoa
1/3 cup apricot or mango chutney
1/4 cup lime juice
2 tablespoons olive oil
1/4 teaspoon salt
1/2 cup each: California natural raisins and California golden raisins
1/2 cup each: garbanzo beans and diced red bell pepper
1/3 cup minced red onion
2 tablespoons each: chopped fresh parsley and mint
Freshly ground pepper to taste
Cooking Directions:
Bring water to a boil in a medium saucepan.
Rinse quinoa in a fine mesh strainer and drain well. Add to boiling water; reduce heat and simmer, covered, for 12 minutes. Remove from heat and let stand for 10 minutes. Fluff with a fork and let cool.
Whisk together chutney, lime juice, olive oil and salt. Stir into quinoa mixture, then carefully stir in all remaining ingredients.
Cover and chill for at least one hour.
Makes 6 servings.
Nutritional Information Per Serving (1/6 of recipe): Calories 310 (20% from fat); Total Fat 7g (sat 1g, mono 4g, poly 2g); Cholesterol 0mg; Protein 8g; Carbohydrates 57g; Fiber 7g; Iron 5mg; Sodium 150mg; Calcium 68mg.
Recipe and photograph provided courtesy of www.LoveYourRaisins.com; through ARA Content.