Mexicana Chef Salad Patio Platter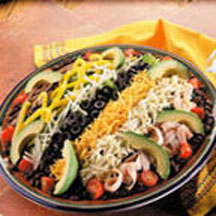 A terrific Mexican-style salad that's a meal-in-one. The perfect menu idea for a buffet dinner fiesta.
Recipe Ingredients:
1 (18-ounce) bag romaine salad blend
1/2 pound deli-sliced peppered or plain roast beef, cut into strips
1 yellow bell pepper, cored and cut into thin strips
1 1/2 cups peeled jícama, cut into matchsticks
1 pint grape or small cherry tomatoes, halved
1 1/2 cups Wisconsin Sharp Cheddar cheese, shredded
1 1/2 cups Wisconsin Pepper Jack cheese, shredded
1 cup black olives, halved
1 lime, halved (reserve half of lime for dressing)
1 avocado, peeled, pitted and thinly sliced (immediately sprinkle cut avocado slices with juice from half of lime)
1 cup canned black beans, rinsed and drained
1/2 pound deli-sliced smoked turkey breast, cut into strips
Dressing:
1 cup buttermilk
1/4 cup mayonnaise or salad dressing
Juice from reserved half of lime
1 teaspoon honey
1/2 teaspoon ground cumin
1 clove garlic, minced
1 tablespoon cilantro, freshly minced
Cooking Directions:
Dressing: Whisk together buttermilk and salad dressing until smooth. Whisk in remaining ingredients. Chill while assembling salad.
On a very large oval or rectangular platter, approximately 15 x 20-inches, spread salad blend into an even layer to cover platter. Starting on left side, arrange salad toppings in long vertical strips in this order: roast beef strips, yellow pepper strips, Jícama matchsticks, tomatoes.
In center of platter, mound the shredded cheddar and pepper Jack cheeses. Then continue with vertical strips of the remaining toppings: black olives, avocado slices, black beans and finally smoked turkey breast strips.
Garnish platter with canned jalapeño pepper slices and fresh cilantro sprigs.
Place pitcher of prepared dressing near salad and set out salad tongs and a large serving spoon to allow guests to serve themselves a salad with desired toppings.
Serve with tortilla chips.
Makes 6 servings.
Recipe and photograph courtesy of Wisconsin Milk Marketing Board, Inc.