Orange Trout Salad with Spiced Walnuts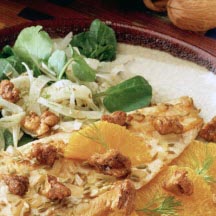 Got a fisherman in your family? The next time he brings home a few trout, try this heart-healthy recipe. Or, where available, purchase the trout and have the fish monger clean and butterfly it for you.
Recipe Ingredients:
1 pound de-boned trout, heads and tails removed, butterflied
1 shallot, finely diced
1/2 cup fresh orange juice
2 tablespoons Mirin
2 teaspoons fennel seeds
1/2 cup California Walnut pieces
1/4 cup granulated sugar
1/4 teaspoon salt
1/2 teaspoon five-spice powder
1 large egg white, lightly beaten
1 teaspoon walnut oil
2 oranges, peeled and sliced 1/2 inch thick, reserving 4 slices for garnish
1 large fennel bulb, very thinly sliced; reserve 2 to 3 slices for garnish
2 bunches watercress, tough stems removed
Cooking Directions:
Coat non-stick skillet with cooking spray. Sauté trout, skin side down, over medium to high heat, until golden and slightly crisp, about 4 minutes. Turn once and cook an additional 4 minutes. Place trout skin side down in a shallow dish and set aside.
In non-stick skillet, lightly sauté shallots until softened but not browned. Combine shallots, orange juice, mirin and fennel seeds and pour over trout. Cover and refrigerate for at least one hour or overnight.
In small bowl, combine walnuts with sugar, salt, five-spice powder and egg white. Spread on a non-stick baking pan and bake in 250ºF (120ºC) oven until golden and most of the liquid is evaporated, stirring occasionally, about 45 to 60 minutes. Cool spiced nuts to room temperature. Break apart nuts that stick together.
Remove trout from marinade. Remove and discard skin. Separate to create 4 fillets. Set aside and allow to come to room temperature. Reserve 2 tablespoons of the marinade and combine with walnut oil to make salad dressing.
In large bowl, combine orange slices, fennel, watercress and dressing. Toss gently. Divide mixture among 4 plates, top each with a trout fillet and sprinkle walnuts over top. Garnish with reserved orange and fennel slices.
Makes 4 servings
Recipe and photograph provided courtesy of the American Heart Association and the California Walnut Commission.