Organic Sweet Greens Salad with Pepato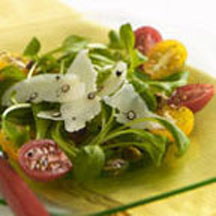 An elegant first course salad of organic mixed baby greens tossed with a complex shallot, fresh tarragon and Riesling wine vinaigrette, topped with butter-sautéed pistachios and shaved pepato cheese (peppercorn cheese). Recipe by Chef Goose Sorensen.
Recipe Ingredients:
2 teaspoons butter
1 cup shelled green pistachios
Salt, to taste
1/4 cup sweet Riesling wine
2 tablespoons champagne vinegar
1 tablespoons lemon juice
1 shallot, chopped
1 garlic clove, minced
2 tablespoons chopped fresh tarragon leaves
1/2 cup olive oil
Salt and ground black pepper, to taste
1 (5-ounce) package organic mixed baby greens, cleaned and sorted
12 cherry tomatoes, halved
6 ounces pepato cheese
Cooking Directions:
Melt the butter in a small sauté pan over medium heat; add the pistachios. Sauté the nuts until slightly brown, 2 to 3 minutes. Dry the nuts on paper towels; sprinkle with a pinch of salt.
In a blender beaker, combine the wine, vinegar, lemon juice, shallot, garlic, and tarragon. Blend on high for 30 seconds. Slowly add the olive oil and blend for at least 1 minute and 30 seconds, until the dressing becomes emulsified. Add salt and pepper to taste. Let stand at least 1 hour.
Toss the greens in a small amount of the vinaigrette. Slowly add more until the greens are coated.
Add the pistachios; salt and pepper to taste. Place the salad on four cold plates. Sprinkle the cut sides of the tomatoes with salt and pepper; distribute on the plates, around the greens. With a potato peeler or thin cheese knife, shave the pepato cheese over the top of each salad.
Refrigerate any remaining vinaigrette up to 1 week.
Makes 4 servings.
Recipe and photograph courtesy of Wisconsin Milk Marketing Board, Inc.