Panzanella 2 (Italian Bread Salad)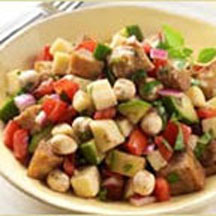 Panzanella, the classic Italian bread salad is at its best when fresh-from-the-garden, ripe tomatoes are used. Recipe by Chef Tim Tesch.
Recipe Ingredients:
1/2 loaf artisan-style baguette, cut into 1/2-inch cubes
2 medium vine ripened tomatoes, seeded, cut into 1/2-inch dice
1 small European cucumber, quartered and sliced 1/2-inch thick
1/2 medium red onion, diced 1/2 inch
1 cup basil leaves, julienned and loosely packed
3/4 cup (3 ounces) Wisconsin whole milk Fresh Mozzarella Cheese "pearls" or cut into 1/2-inch cubes
3/4 cup (3 ounces) Wisconsin Italian Fontina Cheese, cut into 1/2-inch cubes
1/4 cup balsamic vinegar
2 tablespoons nonpareil capers with juice
2 small garlic cloves, minced
1/2 teaspoon kosher salt
Cooking Directions:
Preheat oven to 400°F (205°C).
Place bread cubes on baking sheet. Bake 10 minutes or until slightly dry and just turning golden brown. Remove and cool.
While bread is cooling, prepare vegetables and cheese; place in salad bowl.
Combine vinegar, capers, garlic and salt in small bowl; whisk in olive oil.
Toss vegetables and cheese with bread.
Pour dressing over top and toss until evenly coated.
Makes 10 to 12 servings.
Recipe and photograph courtesy of Wisconsin Milk Marketing Board, Inc.