Perfection Pineapple Lime Cheese Salad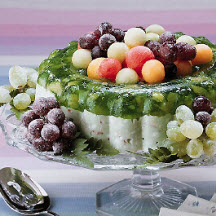 This festive salad has it all—great taste and presentation, perfect for the holidays and special occasions.
Recipe Ingredients:
1 (8-ounce) can crushed pineapple
2 (3-ounce) packages lime-flavored gelatin
2 3/4 cups boiling liquid
1/2 cup ginger ale
1/4 cup lemon juice
1 (8-ounce) package cream cheese, softened and cut into small pieces
1 cup (7 1/2 ounces) cream-style cottage cheese
1 cup (4 ounces) shredded Wisconsin Muenster cheese
1/2 cup chopped pecans
Cooking Directions:
Drain pineapple, reserving liquid. Add enough water to liquid to make 1 1/4 cups. Heat liquid to boiling and dissolve 1 package of gelatin in liquid. Stir in ginger ale. Chill until slightly thickened. Stir in pineapple. Pour into a lightly oiled 6 cup ring mold. Chill.
Dissolve second package of gelatin in 1 1/2 cups boiling water. Stir in lemon juice and cream cheese. Chill until slightly thickened.
Fold in cheeses and pecans. Pour into mold on top of first layer. Chill until set. Unmold and garnish with fresh fruits.
Makes 10 servings.
Recipe and photograph courtesy of Wisconsin Milk Marketing Board, Inc.