Pleasant Ridge Reserve and Warm Arugula Salad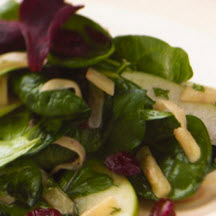 An elegant first course salad of wilted baby arugula and spinach salad, with thinly sliced Granny Smith apples, roasted green onions and port wine-plumped cranberries tossed with an apple cider vinaigrette, garnished with crispy-fried paper thin beets and topped with grated Pleasant Ridge Reserve cheese, an award-winning firm cheese with a musty, mushroom-like flavor. Recipe by Chef Todd Downs.
Recipe Ingredients:
Apple Cider Vinaigrette:
2 cups apple cider
2 ounces (1/2 cup) apple cider vinegar
1 tablespoon Dijon mustard
1 1/2 tablespoons shallots, briefly sautéed and cooled
1 1/2 tablespoons fresh chopped chervil
3 ounces walnut oil
3 ounces vegetable oil
Sea salt, to taste
Freshly ground pepper, to taste
Crispy Beets:
6 baby beets, sliced paper-thin
Oil for frying (heated to 375°F), as needed
Sea salt, to taste
Salad:
4 cups (12 ounces) baby arugula
2 cups (6 ounces) baby spinach
1 cups dried cranberries, plumped in port wine
3 Granny Smith apples, sliced thinly
1 bunches green onions, roasted and diced
1 1/2 cups (6 ounces) grated Pleasant Ridge Reserve cheese
Cooking Directions:
For Vinaigrette: Reduce the cider in a sauté pan over medium heat until 2/3 cup remains. Cool.
Place the vinegar, mustard, shallots, and chervil in a bowl. Mix well. Drizzle the oils in slowly. After the dressing has emulsified, add the cider. Season and reserve.
For Crispy Beets: Fry the sliced beets until crisp. Drain on paper towels, and salt lightly.
For Salad: Combine the salad ingredients with half of the vinaigrette in a large metal mixing bowl. Place the bowl over a medium flame. Quickly toss the salad to wilt the greens slightly. Transfer to six plates. Top with the crispy beets and grated Pleasant Ridge Reserve cheese. Drizzle the remaining vinaigrette around the salad.
Makes 6 servings.
Recipe and photograph courtesy of Wisconsin Milk Marketing Board, Inc.