Pork Caesar Salad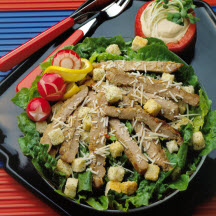 Just when you think the cupboard is bare, and wonder 'what's for dinner?'—remember this main dish salad for the answer. Serve with hot French bread.
Recipe Ingredients:
1 whole pork tenderloin, about 1 pound
1/4 cup Italian dressing
6 tablespoons mayonnaise
1 tablespoon lemon juice
2 teaspoons Worcestershire sauce
4 drops hot pepper sauce
1 teaspoon olive oil
6 cups chopped romaine lettuce
3/4 cup croutons
2 tablespoons freshly grated Parmesan cheese
Freshly ground pepper
Cooking Directions:
Slice tenderloin in half lengthwise, then in 1/4-inch-thick slices; place in self-sealing bag, add dressing, seal bag and marinate an hour in refrigerator.
For dressing, in small bowl stir together mayonnaise, lemon juice, Worcestershire and hot pepper sauce; set aside.
Drain marinade from pork, discarding marinade.
Heat oil in large skillet over high heat. Stir-fry pork 3 to 4 minutes, until lightly browned.
In large serving bowl toss together pork, romaine, reserved dressing, croutons and Parmesan. Season to taste with pepper and serve with hot French bread.
Makes 4 servings.
Recipe and photograph provided courtesy of National Pork Board.