Romaine with Creamy Poblano Chile Dressing
and Cotija Cheese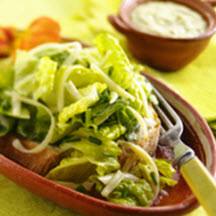 Crisp romaine lettuce is tossed with a creamy dressing made with roasted poblano chile and cotija cheese (the 'Parmesan' of Mexico), served over sliced crusty artisan bread, and garnished with more cotija and fresh chives. Recipe by Chef Ben Berryhill.
Recipe Ingredients:
Dressing:
Vegetable oil for coating poblanos
1 poblano chile
1 serrano chile
1/3 cup red onion, chopped
1 cup buttermilk
1 cup mayonnaise
1 tablespoon fresh lime juice
1 tablespoon walnut oil or extra virgin olive oil
2 tablespoon cilantro, chopped
1 cup (4 ounces) Wisconsin Cotija or Parmesan, finely grated - divided use
Salad:
1 head romaine, cleaned and sliced into 1-inch pieces (8 cups)
2 tablespoons extra virgin olive oil
Salt, to taste
6 slices crusty artisan bread
1/4 cup fresh chives chopped
Cooking Directions:
For Dressing: Preheat broiler. Lightly oil the poblano chile and broil, turning as necessary until skin is blackened, about 10 minutes. When cool enough to handle, peel and seed; roughly chop and set aside.
Remove the seeds and stems from the serrano chile; chop.
In a blender beaker, combine poblano, serrano, red onion, buttermilk, mayonnaise, lime juice, oil and cilantro. Purée until smooth and creamy.
Add 1/4 cup of grated Cotija cheese to the dressing. Stir to mix and set aside.
For Salad: Toss romaine with olive oil and 1/2 cup Cotija cheese. Season with salt to taste.
Final Presentation: Place slice of bread on each of 6 plates. Top each with equal portions of romaine mixture, sprinkle with remaining 1/4 cup Cotija cheese and chopped chives. Serve prepared dressing on the side.
Makes 6 servings.
Recipe and photograph courtesy of Wisconsin Milk Marketing Board, Inc.