Salmon Pinwheel Salad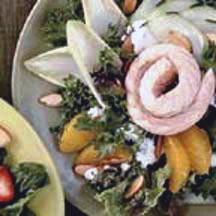 Your dinner guests will marvel at these charming pinwheels—they look like they require more effort than they actually do.
Recipe Ingredients:
1 1/2 pounds fresh or frozen skinless salmon fillet, 1/2 to 3/4-inch thick
1/8 teaspoon salt
1/8 teaspoon black pepper
1/2 cup dry white wine or water
1 bay leaf
1/4 teaspoon salt
1/4 teaspoon black pepper
4 cups torn curly endive
4 cups torn red-tipped leaf lettuce
2 medium oranges, peeled and sectioned
1 cup thinly sliced cucumber
1/4 cup sliced almonds, toasted
Fresh Orange Dressing (see recipe below)
Cooking Directions:
Thaw fish, if frozen. Rinse fish; pat dry with paper towels. Cut lengthwise into 6 even strips. Sprinkle lightly with salt and black pepper. Starting with the thick end of each strip, roll up into a pinwheel. Secure with a wooden toothpick or skewer.
In a medium skillet combine white wine, bay leaf, the 1/4 teaspoon salt, and 1/4 teaspoon black pepper. Bring to boiling. Add fish pinwheels. Return to boiling; reduce heat. Simmer, covered, for 6 to 8 minutes or until fish flakes easily when tested with a fork, turning once. Using a slotted spoon, remove fish from cooking liquid. Cover and chill for 2 to 12 hours. Discard cooking liquid.
To serve, divide the endive, leaf lettuce, orange sections, cucumber slices, and almonds among six dinner plates. Spoon the Fresh Orange Dressing over lettuce mixture. Top with the fish pinwheels.
Makes 6 servings.
Fresh Orange Dressing: In a small bowl stir together 1/2 cup light dairy sour cream, 1/2 teaspoon finely shredded orange peel, 2 tablespoons orange juice, 2 teaspoons sugar, and 1/2 teaspoon poppy seeds. Stir in enough additional orange juice, 1 teaspoon at a time, to make a dressing of desired consistency. Makes about 1/2 cup.
Nutritional Information Per Serving (1/6 of recipe): calories: 227, total fat: 9g, saturated fat: 2g, cholesterol: 66mg, sodium: 144mg, carbohydrate: 9g, total sugar: 5g, fiber: 3g, protein: 26g, vitamin A: 0%, vitamin C: 39%, calcium: 11%, iron: 11%, vegetables: 2diabetic exchange, lean meat: 3diabetic exchange, fat: .5diabetic exchange.
Recipe and photograph provided by Better Homes and Gardens - BHG.com a member of the Home and Family Network for the best of cooking, gardening, decorating and more. © 2003 Meredith Corporation. All Rights Reserved.