SarVecchio® and Sausage Polenta
with Arugula Salad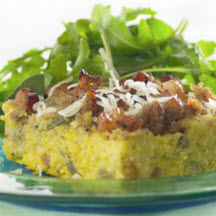 This fabulously versatile dish works well as a first course, luncheon or dinner entrée dependent only on portioning. Recipe by Chef Tory Miller.
Recipe Ingredients:
Polenta:
1 cup boiling water
1 cup golden raisins
2 tablespoons olive oil, plus some for greasing pan
3/4 pound bulk sweet sausage
1/4 pound pancetta, diced
1 small onion, minced
2 cups polenta meal
1/2 cup (about 2 ounces) grated Sarvecchio cheese, plus extra for sprinkling*
1 tablespoon fresh sage, cut in julienne strips
3 egg yolks
Salt and ground black pepper, to taste
4 cups boiling water or stock
1 cup extra-virgin olive oil - divided use (amount is included for vinaigrette)
Vinaigrette:
2 tablespoons balsamic vinegar
1 tablespoon honey
1/2 tablespoon Dijon mustard
1 small shallot, minced
6 cups arugula
Cooking Directions:
For the polenta, preheat the oven to 375°F (190°C). Grease 12x9-inch baking dish with olive oil. Pour 1 cup of boiling water over the raisins, to plump. Heat 2 tablespoons of olive oil in a medium sauté pan over medium-high heat. Add sausage and pancetta; stir until cooked but not browned and crisp. Add the onion; reduce the heat, and sweat until the onion is translucent. Set aside.
In a large bowl, combine the polenta, cheese, sage, and egg yolks. Whisk in the salt, pepper and boiling water or stock. Drain the raisins and add to the polenta with about three-fourths of the sausage-and-onion mixture. Stir until smooth and slightly thick.
Pour the mixture into the prepared baking dish; top with the remaining sausage mixture. Drizzle with a little olive oil; reserve the remaining olive oil for the vinaigrette.
Bake for about 45 minutes or until the sausage is browned and the crisp, and polenta is set. Remove from the oven and let stand 10 minutes.
For the vinaigrette, in a small bowl, whisk together the vinegar, honey, mustard, and shallot. Continue whisking and gradually whisk in the remaining olive oil, to taste.
To serve, cut the polenta into 6 squares. Place one square on each plate. Place a one-cup mound of arugula beside the polenta; drizzle with the vinaigrette. Sprinkle the extra grated cheese on top.
Makes 6 servings.
*Freshing grated Parmesan may be substituted for the Sarvecchio cheese.
Recipe and photograph courtesy of Wisconsin Milk Marketing Board, Inc.