Savory Asian Noodle & Walnut Salad
with Grilled Skewered Shrimp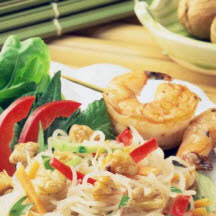 This cool Asian noodle salad contrasts refreshingly with warm seared shrimp skewers. Look for bagged mixed Asian greens in the produce section of your local supermarket.
Recipe Ingredients:
1/2 cup chopped California Walnuts - divided use
6 cups water
6 ounces vermicelli rice noodles
1/2 cup and 3 tablespoons prepared fat-free Asian style salad dressing - divided use
1 pound medium shrimp, peeled and deveined (about 16)
salt and pepper to taste
1 red bell pepper, julienned
3/4 cup thinly sliced green onions (about 8 to10)
1 large cucumber, peeled and thinly sliced
3/4 cup bean sprouts
1 carrot, peeled and julienned or grated
1/3 cup chopped cilantro
2 teaspoons grated fresh ginger
1 head Boston lettuce
4 cups mixed Asian greens (i.e: mizuna, tat soi, red mustard, napa cabbage)
Cilantro leaves for garnish (optional)
Cooking Directions:
On baking sheet, arrange walnuts in a single layer. Place into a 350ºF (175ºC) oven. Toast until lightly browned, about 5 to 7 minutes. Cool.
Bring 6 cups of water to a boil. Add vermicelli rice noodles and cook for 3 to 4 minutes. Drain well, cool slightly, and toss with 1/2 cup dressing. Chill noodles in fridge.
Season shrimp lightly with salt and pepper. Thread shrimp on short bamboo skewers, allowing two per skewer. Coat large non-stick skillet with cooking spray and place over medium to high heat. Sear shrimp in pan until pink, about 3 minutes per side. Brush shrimp with 2 tablespoons dressing. Set aside to cool.
In large bowl, toss chilled rice noodles with bell pepper, green onions, cucumber, bean sprouts, carrot, cilantro, ginger and half of the walnuts. Wash lettuce and divide between 4 plates. Toss Asian greens with remaining tablespoon of dressing and arrange on top of plated lettuce. Place rice noodle salad over greens. Arrange 2 skewers of shrimp on each salad and sprinkle remaining walnuts over salad. Garnish with cilantro leaves.
Makes 4 servings
Recipe and photograph provided courtesy California Walnuts.