Seven-Layer Salad with Feta Yogurt Dressing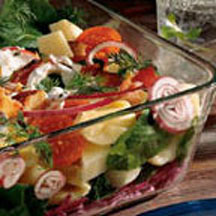 The classic seven-layered salad—Mediterranean-style—with cheese tortellini, shredded red cabbage, spinach leaves, cubes of fontina cheese, cherry tomatoes and green onions, drizzled with a tangy feta yogurt dressing and garnished with crisp bacon crumbles.
Recipe Ingredients:
1/2 cup plain low-fat yogurt
1/2 cup buttermilk
1/4 cup mayonnaise
1/2 cup (3 ounces) crumbled feta cheese
1 teaspoon granulated sugar
1/4 teaspoon dried dill weed
1/4 teaspoon dried basil leaves
1/8 teaspoon ground white pepper
1 (9-ounce) package uncooked cheese tortellini
2 cups shredded red cabbage
6 cups torn spinach leaves
2 cups cubed fontina cheese
1 cup cherry tomatoes, halved
1/4 cup diagonally-sliced green onions
8 slices bacon, cooked and crumbled
Cooking Directions:
In an electric blender or a food processor, blend the yogurt, buttermilk, mayonnaise, feta cheese, sugar, dill, basil, and pepper until smooth. Chill.
Cook the tortellini according to the package directions. Drain; rinse with cold water.
In a 2 1/2-quart bowl, layer the cabbage, spinach, tortellini, fontina cheese, tomatoes, and green onions.
Pour the dressing over the salad; sprinkle with the bacon.
Cover and chill for 3 to 4 hours or until serving time.
Makes 8 servings.
Recipe and photograph courtesy of Wisconsin Milk Marketing Board, Inc.