Smoked Turkey, Ripe Olive and Lentil Salad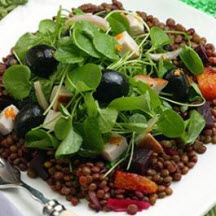 Recipe courtesy of California Ripe Olives.
Recipe Ingredients:
3 cups cooked lentil beans
1 1/4 cups (6-ounce) diced cooked beets (1/2")
1/2 cup orange segments, halved
3/4 pound (1/2-inch) diced smoked turkey
1 cup ripe olives, halved
3 ounces watercress
3 tablespoons olive oil
3 tablespoons orange juice
2 1/2 tablespoons sherry vinegar
Shallots, thinly sliced into strips
2 teaspoons chopped orange zest
1/4 teaspoon kosher salt
1/8 teaspoon ground black pepper
Cooking Directions:
In a large mixing bowl, whisk together olive oil, orange juice, sherry vinegar, shallots, orange zest, salt and pepper. Divide into two large mixing bowls and set aside.
Toss lentil beans, beets and orange segments in one bowl of the vinaigrette.
Mix smoked turkey, ripe olives and watercress in the other bowl.
To serve, spoon approximately 5 ounces of lentil mixture onto a plate. Top with 3 ounces of smoked turkey mixture.
Makes 6 servings.
Nutritional Information Per Serving (1/6 of recipe): Calories: 298; Total Fat: 12g; Saturated Fat: 2g; Cholesterol: 36mg; Total Carbs: 30g; Fiber: 10g; Protein: 20g; Sodium: 843mg.
Recipe and photograph courtesy of California Ripe Olives.