Sonoma Ranch Steak Salad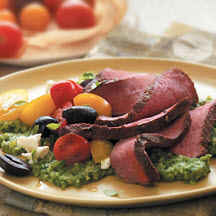 Recipe courtesy of The Beef Checkoff.
Recipe Ingredients:
Rub:
1 tablespoon smoked paprika
1 tablespoon finely chopped fresh rosemary
3/4 teaspoon grated lemon peel
1 clove garlic, minced
1/4 teaspoon freshly ground black pepper
3 boneless beef shoulder center (ranch) steaks, cut 1-inch thick (about 8 ounces each)
3 cups loosely packed fresh spinach
1 3/4 cups frozen butter beans, thawed
2 tablespoons fresh lemon juice
1 clove garlic, chopped
1/2 teaspoon freshly ground black pepper
3 tablespoons extra virgin olive oil - divided use
1 pint red and yellow cherry, grape or teardrop tomatoes, cut in half or quartered, if large
1/2 cup feta cheese, crumbled
1/2 cup Kalamata olives, cut in half
3 tablespoons thinly sliced fresh basil
1 teaspoon red wine vinegar
Fresh basil (optional)
Cooking Directions:
For Rub: Combine ingredients; press evenly onto beef steaks. Cover and refrigerate 30 minutes.
Meanwhile, place spinach, beans, lemon juice, garlic and pepper in food processor container. With motor running, slowly add 2 tablespoon vegetable oil through opening in cover, processing until combined. Season with salt, as desired. Set aside.
Combine tomatoes, cheese, olives and basil in medium bowl. Add remaining 1 tablespoon vegetable oil and vinegar; toss well. Season to taste with pepper; set aside.
Place steaks on grid over medium, ash-covered coals. Grill, uncovered, 11 to 14 minutes (over medium heat on preheated gas grill, covered, 12 to 16 minutes) for medium rare (145°F | 62.7°C) to medium (160°F | 71.1°C) doneness, turning occasionally.
Remove steaks from grill; let stand 5 minutes. Carve steaks into slices; season with salt, as desired.
Evenly divide spinach mixture among 6 individual plates. Top with beef slices; spoon tomato salad over beef. Garnish with basil, if desired.
Makes 6 servings.
Recipe and photograph courtesy of The Beef Checkoff.