Spiced Almond, Grape and Mixed Green Salad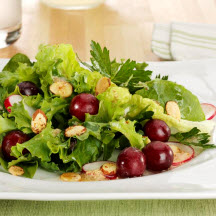 This delicious mixed greens salad, featuring crunchy almonds and plump juicy grapes, is perfect for springtime entertaining. Recipe created by Iron Chef Alex Guarnaschelli.
Recipe Ingredients:
Almonds:
3/4 cup Fisher sliced almonds, toasted
1 teaspoon paprika
Pinch of kosher salt
Dressing:
1 teaspoon red wine vinegar
2 teaspoons grainy mustard
1/3 cup extra-virgin olive oil
1/8 teaspoon salt
Salad:
3 cups mixed greens, washed
6 red radishes, tops trimmed down to 1/2 inch, thoroughly washed and dried
1/4 cup flat-leaf parsley, stemmed, leaves washed and dried
3/4 cup seedless red (or green) grapes, stemmed, washed and dried
Cooking Directions:
For Almonds: Combine the almonds and paprika and a pinch of salt. Toss to blend. Transfer to a baking sheet and toast until browned, 5-8 minutes. Set aside.
For Dressing: Whisk all dressing ingredients together in a small bowl, set aside.
For Salad: Place the radishes on a flat surface and, using a small, sharp knife, slice them into 1/4 inch rounds (with the bit of the tops still attached).
Toss the mixed greens, radishes, parsley and grapes to the bowl and toss to blend. Top with the almonds. Serve immediately.
Makes 6 servings.
Recipe and photograph provided by Fishernuts.com via Brandpoint Content; Copyright 1996-2014.