Spicy Thai Idaho® Potato Salad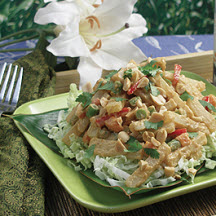 Recipe courtesy of the Idaho Potato Commission.
Recipe Ingredients:
Dressing:
3/4 cup natural style peanut butter
1/2 cup unsweetened coconut milk
2 tablespoons soy sauce
2 tablespoons honey
2 teaspoons chili oil
1 teaspoon sesame oil
Salad:
1 cup green beans, cut into 1/4-inch long pieces (about 4 ounces of beans)
2 small carrots, peeled and chopped (about 1/2 cup)
1 small red bell pepper, cut into thin strips about 1-inch long (1/2 cup)
2 1/2 to 3 pounds Idaho potatoes (5 large or 8 to 9 medium)
Shredded Napa cabbage for serving (optional)
Chopped peanuts and cilantro for garnish (optional)
Cooking Directions:
For Dressing: In a small mixing bowl, stir together the dressing ingredients; set aside.
For Salad: Over high heat, bring a large pot of water (salted with 1 tablespoon coarse salt, if desired) to a boil. Place the beans and carrots in a metal strainer that will fit into the pot of boiling water. Lower the strainer (with the vegetables) into the water and let them cook for 2 to 3 minutes Turn off the heat. Using a towel to hold the handle, remove the strainer, rinse the vegetables thoroughly with very cold water, then drain well. Leave the pot of water on the stove.
Transfer the vegetables to a large mixing bowl. Add the peanut dressing and the red pepper pieces; stir to combine.
Add a little more hot water to the pot on the stove and turn the heat to high. While waiting for the water to boil, peel the potatoes and cut them into 1/2-inch thick slices lengthwise, then cut them in 1/4-inch thick slices lengthwise from the other side. Finally, cut potatoes crosswise into thirds, making little sticks. Add the potatoes to the boiling water, cover loosely and cook for 8 to 9 minutes, until a knife can pierce the potatoes easily, but are still firm. Drain potatoes and add them to the bowl with the other ingredients. Using a wooden spoon, stir to coat all ingredients with the dressing.
Serve warm or at room temperature. For a nice presentation, place the potato salad on top of shredded Napa cabbage and garnish with chopped peanuts and cilantro, if desired.
Makes 12 servings.
Nutritional Information Per Serving (1/12 of recipe; 2/3 cup): Calories: 222; Total Fat: 11g; Cholesterol: 0mg; Total Carbs: 27g; Protein: 6g; Sodium: 183mg.
Recipe and photograph courtesy of the Idaho Potato Commission.