Spring Fling Potato Salad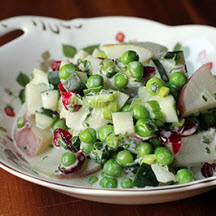 Recipe courtesy of Molly Sheridan of www.wonderlandkitchen.com.
Recipe Ingredients:
Salad:
3 pounds mixed red and gold waxy Idaho® potatoes, cubed
1 1/2 cups green peas, frozen or fresh
1/3 cup dried cranberries
2 small cucumbers, seeded and diced
4 green onions, sliced
1/4 cup sliced almonds
Dressing:
3 tablespoons white balsamic vinegar
2 tablespoons pomegranate molasses*
2 teaspoons kosher salt
Generous handful fresh basil
Leaves from a few sprigs of fresh mint
3/4 cup buttermilk, plus additional as needed
3/4 cup mayonnaise
Cooking Directions:
Boil the cubed potatoes until just fork tender, about 10 minutes Drain and reserve.
While potatoes cook, bring a second pot of water to a boil and blanch peas for 1 minute, then drain and plunge them into an ice water bath to shock and stop the cooking. Set aside.
For Dressing: Place vinegar, pomegranate molasses, salt, and herbs in the small bowl of a food processor and pulse until leaves are minced. Combine this mixture with the buttermilk and mayonnaise in a jar with a tight-fitting lid and shake until dressing is well mixed. Thin dressing with additional buttermilk as needed.
In a large bowl, place potatoes, peas, cranberries, cucumbers, green onions, and sliced almonds. Toss with enough of the dressing to coat. Chill until ready to serve.
Makes 6 to 8 servings.
*May substitute grenadine for pomegranate molasses.
Recipe and photograph courtesy of the Idaho Potato Commission.