Strawberry & Arugula Salad with
Cocoa-Spiced Pecans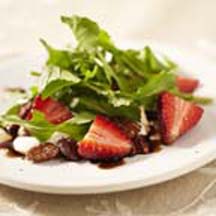 This elegant strawberry and arugula salad, with its cocoa-spiced pecans, takes a little extra effort but it's worth it. The salad is a perfect choice for entertaining.
Recipe Ingredients:
Cocoa-Spiced Pecans:
Parchment paper or nonstick cooking spray
1 large egg white
1/3 cup granulated sugar
1 tablespoon NESTLÉ® TOLL HOUSE® Baking Cocoa
1 teaspoon fine sea salt
1 teaspoon ground cinnamon
1/2 to 1 teaspoon cayenne pepper or ancho chile powder
4 cups pecan halves

Strawberry & Arugula Salad:
1 (5.3-ounce) container soft goat's milk cheese
2 1/2 cups halved or quartered strawberries
About 2/3 cup Cocoa-Spiced Pecans
2 tablespoons extra virgin olive oil (optional)
1/4 teaspoon each fine sea salt and freshly ground black pepper
2 tablespoons balsamic syrup*
2 1/2 cups arugula, washed and dried
Cooking Directions:
For Cocoa-Spiced Pecans: Preheat oven to 325°F (160°C). Line baking sheet with parchment paper or spray with nonstick cooking spray.
Whisk together egg white, sugar, cocoa, salt, cinnamon and cayenne pepper in medium bowl. Stir in nuts; stir until completely coated. Pour nuts onto prepared baking sheet and spread into a single layer.
Bake for 20 minutes; remove from oven. Using spatula, stir and separate nuts. Reduce oven temperature to 250°F (120°C) and continue to bake for 15 minutes. Cool completely on baking sheet on wire rack, then break into pieces. Store in airtight container for up to 2 weeks. Makes 4 cups.
For Strawberry & Arugula Salad: Place about 2 tablespoons goat cheese in the center of each of 5 salad plates. Scatter about 1/2 cup strawberries and 2 tablespoons cocoa-spiced pecans around. Drizzle with oil. Sprinkle with salt and pepper. Drizzle with syrup. Top each with a handful (about 1/2 cup) arugula.
Makes 5 servings.
*If you can't find balsamic syrup, you can make your own reduction by boiling balsamic vinegar until reduced by half. Cool completely before using.
Recipe and photograph are the property of Nestlé® and Meals.com, used with permission.