Supersweet Corn, Shrimp and Quinoa Salad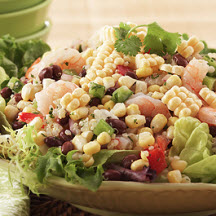 Recipe courtesy of Fresh Supersweet Corn.
Recipe Ingredients:
3 cups cooked quinoa*
1 (15-ounce) can black beans, drained and rinsed
3 cups fresh Supersweet corn kernels (4 medium ears)
1 cup seeded and diced (1/4-inch) red and green sweet bell pepper
1/2 cup chopped red onion, soaked in hot water for 5 minutes and drained
1/4 cup thinly sliced green onions (white part and 1 inch of the green)
8 ounces good-quality salad shrimp**
1/4 cup minced fresh cilantro leaves
1/3 cup extra virgin olive oil
3 tablespoons cider vinegar
1 tablespoon Dijon mustard
3/4 teaspoon salt
1/2 teaspoon freshly ground black pepper
2 teaspoons granulated sugar
Cooking Directions:
Add prepared quinoa to a large mixing bowl. Add the beans, corn, bell peppers, onion, green onions, and shrimp (if using) and toss to combine well.
To make the vinaigrette, in a sealable container, combine all the ingredients and shake for a few seconds, until the mixture thickens.
Toss the salad with the vinaigrette (use a little less if not using shrimp). Add salt to taste. Cover and refrigerate until needed.
Just before serving, toss the salad with the cilantro. Garnish with halved cherry tomatoes, or serve on a bed of greens, if desired.
Makes 6 servings.
*Prepare with 1 cup uncooked quinoa; cook according to package directions.
**Or 2 cups cooked chicken, smoked turkey, or imported boiled ham cut into 1/2 inch cubes.
Recipe and photograph courtesy of Fresh Supersweet Corn.