Sweet Potato Salad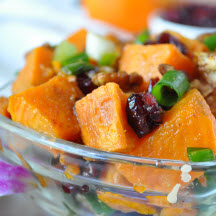 The natural sweetness of yams combined with crunchy celery, tart cranberries and a light lemon dressing makes this salad a keeper.
Recipe Ingredients:
1 pound sweet potatoes (about 4 cups)
1 1/2 cups chopped celery
1/2 cup coarsely chopped onion
1 tablespoon minced parsley
1/4 cup dried cranberries
2 tablespoons lemon juice
2 tablespoons olive oil
Salt to taste
Cooking Directions:
Preheat oven to 400°F (205°C).
Bake sweet potatoes for 45 minutes to 1 hour or until tender. Do not over bake; they should not be mushy. Cool.
Peel sweet potatoes and cut into chunks.
In a large bowl, combine the sweet potatoes, celery, onion, parsley and cranberries.
In a small bowl, whisk together the lemon juice and olive oil. Toss with potato mixture and salt.
Makes 6 servings.
Created by Louisiana Sweet Potato Commission spokesperson, Holly Clegg.
Recipe and photograph courtesy of Louisiana Sweet Potato Commission.