Vinaigrette Salad Dressing with Add-Ins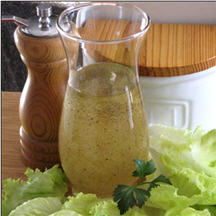 Homemade vinaigrette-style (oil and vinegar) salad dressing is easy, tastes better, and takes only a few minutes to whisk together. Try it, you may never buy bottled dressing again.
Recipe Ingredients:
Basic Vinaigrette:
2/3 cup vegetable or olive oil
1/3 cup vinegar of your choice*
2 teaspoons granulated sugar**
1 "Add-In", or any combination as desired
Kosher or sea salt to taste
Freshly ground black pepper to taste
Add-Ins:
2 teaspoons chopped fresh basil or 1/2 teaspoon dried
2 teaspoons chopped fresh oregano or 1/2 teaspoon dried
2 teaspoons chopped fresh thyme or 1/2 teaspoon dried
2 tablespoons freshly grated Parmesan, Asiago or Romano cheese
2 tablespoons blue cheese crumbles
1 to 2 cloves garlic, finely minced or 1/4 to 1/2 teaspoon garlic powder
1/2 to 1 teaspoon paprika
1 to 2 teaspoons Dijon Mustard or 1/4 teaspoon dry mustard
1/4 teaspoon red pepper flakes or cayenne pepper or to taste
Cooking Directions:
In a small mixing bowl*** whisk together the vinegar and sugar, continue whisking constantly and slowly pour in the oil in a very thin stream, whisking vigorously until all the oil has been incorporated and the vinaigrette is emulsified.
Stir in desired Add-In(s) and season to taste with salt and pepper.
Pour into a glass jar or nonreactive container with a tight lid and store in refrigerator. (Note: If using fresh herbs, use within 2 weeks.)
Makes 1 cup or 16 (1-tablespoon) servings.
*Such as balsamic, red wine, white wine, cider or white distilled vinegar.
**For best taste when using balsamic vinegar, use brown sugar instead of granulated.
***To keep the bowl steady, place it on a damp towel.
Nutritional Information Per Serving (1/16 of recipe; does not include Add-Ins): 83.3 calories; 96% calories from fat; 9.1g total fat; 0.0mg cholesterol; 0.0mg sodium; 0.8mg potassium; 0.8g carbohydrates; 0.0g fiber; 0.8g sugar; 0.8g net carbs; 0.0g protein.
Recipe and photograph by Hope Pryor; Copyright © 1999; property of CooksRecipes.com. See Terms of Use.