Walnut-Bleu Date Vinaigrette Salad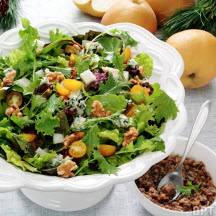 If you're looking for a great seasonal salad recipe, try this one with its own unique twist. This salad, created by Lori McLain of Denton, Texas, was selected by Chef Alex Guarnaschelli and a panel of judges as the winner of the 2013 "My Fresh Twist" recipe contest.
Recipe Ingredients:
Sesame Date Vinaigrette:
6 pitted dates
3 tablespoons sesame oil
1 teaspoon soy sauce
1/4 cup rice vinegar
1 tablespoon minced garlic
2 tablespoons honey
1/4 teaspoon coarse Dijon mustard
Pinch of salt
Pinch of freshly ground black pepper
Salad Topping:
6 dates, finely chopped
2/3 cup chopped Fisher Walnut Halves and Pieces
1 tablespoon honey
1 teaspoon brown sugar, packed
1/8 teaspoon salt
Salad:
6 cups mixed salad greens with radicchio and romaine
1 cup halved yellow cherub tomatoes
1/2 cup crisp Asian pear, peeled and finely chopped
4 ounces chopped bleu cheese
Cooking Directions:
For Vinaigrette: Place dates, sesame oil, soy sauce, vinegar, garlic, honey, mustard, salt and pepper in the bowl of a small food processor and puree until smooth. Chill while preparing the salad.
For Topping: Combine dates, walnuts, honey, brown sugar and salt in a medium skillet. Cook over medium-high heat until nuts are toasted and mixture is sticky. Transfer to a cookie sheet that has been sprayed with non-stick cooking spray and spread out to cool.
For Salad: Divide salad greens among 4 small plates. Top with tomatoes and pears. Divide bleu cheese crumbled over the top of each salad. Top each with cooled topping mixture. Drizzle salads with sesame date vinaigrette.
Makes 4 servings.
Recipe and photograph provided by Fisher Nuts via Brandpoint Content; Copyright 1996-2014.