Warm Chickpea Pancake with Feta Cheese,
Smoked Salmon, Avocado Salad and Black Olive Oil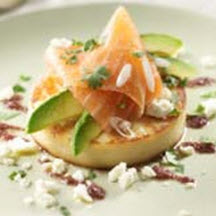 The recipe's name perfectly describes this elegant first course dish. Recipe by Chef Dean Maupin.
Recipe Ingredients:
4 cups whole milk
1/2 cup (1/4 pound) unsalted butter
1 small shallot, minced
2 cups raw chickpea flour, sifted
2 teaspoons kosher salt
1 teaspoon black pepper, freshly ground
1 cup Wisconsin Parmesan Cheese, finely grated
1 tablespoon canola oil
1/2 cup pitted kalamata olives
1/2 cup plus 2 tablespoons extra virgin olive oil
3 ripe avocados, seeded, peeled and diced
Juice of 1 to 2 limes
3 tablespoons scallions, chopped, white part only
2 tablespoons extra virgin olive oil
1/2 teaspoon ground cumin
3 tablespoons cilantro, chopped
Pinch of kosher salt and freshly ground black pepper
8 slices top quality smoked salmon
2 cups (about 12 ounces) Wisconsin Feta Cheese, crumbled
Cooking Directions:
In 4-quart saucepan, add milk, butter and shallot. Bring to gentle boil. Slowly whisk in chickpea flour. Reduce heat to low. With rubber spatula, stir mixture 3 to 4 minutes. Season with 2 teaspoons kosher salt and 1 teaspoon black pepper. Fold in Parmesan cheese. Pour mixture into prepared pan, spreading evenly. Cover with plastic wrap. Refrigerate at least 3 hours until firmly set.
When firm, cut 8 rounds with 2 1/2-inch circle cutter.
Heat canola oil in nonstick pan over medium heat. Add as many pancakes as will fit in pan. Cook 1 to 2 minutes on first side, or until golden brown. Flip and cook other side 1 to 2 minutes or until browned. Remove from pan; keep warm. Repeat if necessary.
Place kalamata olives and 1/2 olive oil in food processor or blender. Puree until smooth. Set aside.
In large bowl, combine avocados, lime juice, scallions, 2 tablespoons olive oil, cumin, cilantro, salt and pepper. Gently toss.
Drizzle 8 plates with the pureeed black olive oil. Place a warm chickpea pancake on each. Crumble feta cheese over pancakes. Lay slices of salmon flat. Divide avocado salad evenly among slices. Roll salmon around salad and place one on top of each pancake. Serve at once.
Makes 8 servings.
Recipe and photograph courtesy of Wisconsin Milk Marketing Board, Inc.