Warm Spiced Cod Niçoise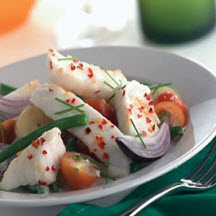 Recipe courtesy of Seafish, the UK Sea Fish Industry Authority.
Recipe Ingredients:
4 thick cod or coley fillets, skinned, thickly sliced (2 ounces each)
3/4 pound new potatoes, thick sliced
6 ounces fine green beans, halved
6 ounces cherry tomatoes
1 red onion, cut into wedges
2 tablespoons butter, melted
Sea salt
1 teaspoon crushed chiles
4 tablespoons low-fat Caesar dressing
1 tablespoon fresh chopped chives
Cooking Directions:
Cook the potatoes in boiling salted water for 8 minutes, add the fine green beans and cook for a further 2 minutes. Drain and spoon into a bowl. Add the tomatoes and red onion.
Brush the fish with a little melted butter, sprinkle with the sea salt and crushed chiles. Cook under a hot broiler for 4 to 5 minutes.
Add a little water to the Caesar dressing. Add three quarters of the dressing to the vegetables and toss to coat.
Serve the vegetables topped with the fish and drizzle over the remaining dressing. Garnish with the chives.
Makes 4 servings.
"From sea to plate, Seafish delivers expert knowledge, skills and support which help the UK seafood industry secure a sustainable and profitable future."

Recipe and photograph courtesy of Seafish, the UK Sea Fish Industry Authority www.seafish.org.