Watercress-Gorgonzola Salad with Spiced Walnuts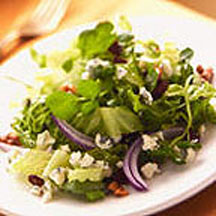 A simple, yet elegant first course or side salad of watercress and romaine lettuces, crumbled gorgonzola cheese, spicy candied walnuts, dried cranberries and julienned red onion tossed in a balsamic vinaigrette and garnished with a decorative drizzle of balsamic vinegar reduction. Recipe by Chefs Frank Randazzo and Andrea Curto-Randazzo.
Recipe Ingredients:
Spiced Walnuts:
1/3 cup walnuts (halves and pieces)
1/4 teaspoon cayenne pepper
1/2 cup pure maple syrup
Salad:
1 cup plus 2 tablespoons balsamic vinegar - divided use
1 bunch watercress, rinsed, dried and stems removed
1/2 head romaine lettuce, cleaned and cut into 1/2-inch strips
1/2 cup (3 ounces) crumbled Gorgonzola cheese
1/4 cup dried cranberries
2 tablespoons julienned red onion
1/4 cup extra-virgin olive oil
Salt, to taste
Freshly cracked pepper, to taste
Cooking Directions:
Preheat the oven to 375ºF (190ºC).
For Spiced Walnuts: Place the walnuts on a baking sheet and toast lightly, about 5 minutes. Remove to a bowl and toss with the cayenne pepper and maple syrup. Return the coated nuts to the baking sheet. Return to the oven for 5 minutes. Remove the walnuts to oiled wax paper to cool.
For Salad: Bring 1 cup of balsamic vinegar to a boil in a small saucepan. Simmer to reduce the liquid by two-thirds, and remove from the heat. Set aside to cool.
In a large bowl, mix the remaining ingredients, including the remaining 2 tablespoons of balsamic vinegar.
Divide the salad among six plates. Drizzle the reserved reduced balsamic vinegar around the plates.
Serve immediately.
Makes 6 servings.
Recipe and photograph courtesy of Wisconsin Milk Marketing Board, Inc.