Zucchini Salad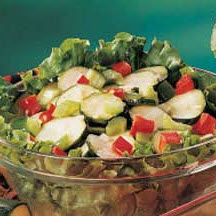 A simple garden salad of sliced zucchini, mushrooms, tomatoes and green onions tossed in a tangy vinaigrette.
Recipe Ingredients:
1 medium zucchini, sliced
1/2 pound fresh mushrooms, sliced
1 tomato, chopped
1/2 cup chopped green onions
1/4 cup vegetable oil
1/4 cup white distilled vinegar
1 teaspoon granulated sugar
1 teaspoon paprika
1/2 teaspoon salt
Freshly ground pepper to taste
Cooking Directions:
Combine zucchini, mushrooms, tomato and green onions in a mixing bowl; set aside.
Combine oil and remaining ingredients, mixing well; pour over vegetables and toss lightly. Cover and chill before serving.
Makes 2 to 3 servings.