All-American Lamb Burgers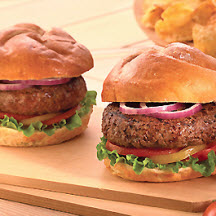 Recipe courtesy of the American Lamb Board.
Recipe Ingredients:
1 1/2 pounds ground American Lamb
4 teaspoons Worcestershire sauce
1 tablespoon balsamic vinegar
1 1/2 teaspoons garlic salt
1 teaspoon ground black pepper
1 teaspoon dried thyme leaves, crushed
4 hamburger buns, toasted
Optional Accompaniments: Lettuce leaves, tomato slices, mustard, and ketchup
Cooking Directions:
In large bowl, blend together lamb, Worcestershire sauce, balsamic vinegar, garlic salt, pepper, and thyme. Cover and refrigerate allowing flavors to blend for 1 hour.
Form into four 3/4-inch-thick patties.
Grill over coals covered with gray ash 4 to 5 minutes per side.
Serve on buns with lettuce, tomato slices, and condiments as desired.
Makes 4 servings.
Nutritional Information Per Serving (1/4 of recipe): Calories: 608; Total Fat: 36g; Cholesterol: 165mg; Total Carbs: 25g; Fiber: 4g; Protein: 46g; Sodium: 762mg.
Recipe and photograph courtesy of the American Lamb Board.