Beef Burrito with Pepper Jack Cheese and Black Beans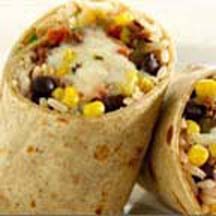 Wrap up a wholesome meal for your family in 20 minutes or less. This recipe is an excellent source of protein, manganese, fiber, and calcium and a good source of iron, vitamin K, vitamin B12, vitamin C, zinc, vitamin B3 (niacin) and vitamin A.
Recipe Ingredients:
1/2 pound ground beef sirloin
2 teaspoons minced garlic
1 cup chunky salsa - divided use
2 cups cooked brown or white rice
6 (9-inch) whole wheat flour tortillas
1 (15-ounce) can black beans, drained and rinsed
1 (11-ounce) can corn kernels, drained
2 cups shredded Pepper Jack cheese
1/3 cup sliced green onion, including green tops
Cooking Directions:
In a medium non-stick skillet, brown ground beef and garlic over medium heat; (break beef mixture up into smaller chunks with a spoon).
Drain fat and stir in 1/2 cup of the salsa; set aside.
Spread 1/3 cup of rice on center of a tortilla, leaving a 1/2-inch border. Scatter about 2 tablespoons of beans and 1 1/2 tablespoons of corn over rice.
Spread 1/3 cup of the beef mixture and 1/4 cup of the cheese over corn. Top with 2 teaspoons of the salsa and a few pieces of green onion.
Fold in two opposite edges of tortilla one inch each and roll up. Place, seam side down, on microwave safe dish. Repeat with remaining tortillas.
Place burritos in a microwave oven and heat 1 minute or until heated through. Serve with remaining salsa.
Makes 6 servings.
Nutritional Information Per Serving (1/6 of recipe): 450 calories, 16 g fat, 8 g saturated fat, 1 g monounsaturated fat, 0.5 g polyunsaturated fat, 640 mg sodium, 59 g carbohydrate, 1 g added sugar, 8 g fiber, 26 g protein.
Recipe and photograph provided courtesy of 3-A-Day of Dairy.