Burgers with Grilled Onions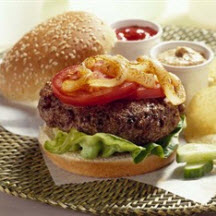 Classic burgers with a classic topping of grilled onions. Old school is making a comeback.
This recipe is an excellent source of protein, niacin, vitamin B6, vitamin B12, iron, selenium and zinc.
Recipe Ingredients:
1 1/2 pounds ground beef (80 percent lean)
1 large sweet onion, cut crosswise into 1/2-inch thick slices
Vegetable oil
Salt and ground black pepper
4 hamburger buns, split, toasted
Lettuce leaves
Tomato slices
Cooking Directions:
Lightly shape ground beef into four 3/4-inch thick patties. Brush onion slices with oil.
Place patties and onion slices on grid over medium, ash-covered coals. Grill, covered, 11 to 15 minutes (over medium heat on preheated gas grill, 13 to 14 minutes) until instant-read thermometer inserted horizontally into center registers 160°F (71.1°C), turning occasionally.
Grill onions, 10 to 12 minutes or until tender, brushing with oil and turning occasionally.
Season burgers and onions with salt and pepper as desired.
Line bottom of each bun with lettuce. Place burgers on top of lettuce. Top with tomatoes and grilled onions. Close bun.
Makes 4 servings.
Tip: Cooking times are for fresh or thoroughly thawed ground beef. Color is not a reliable indicator of ground beef doneness.
Nutritional Information Per Serving (1/4 of recipe): 484 calories; 25 g fat (9 g saturated fat; 10 g monounsaturated fat); 116 mg cholesterol; 304 mg sodium; 26 g carbohydrate; 1.8 g fiber; 38 g protein; 8.4 mg niacin; 0.6 mg vitamin B6; 3.6 mcg vitamin B12; 4.7 mg iron; 36.0 mcg selenium; 8.4 mg zinc.
Recipe and photograph provided courtesy of The Beef Checkoff.