Calypso Beef Burgers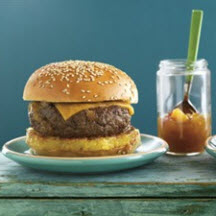 Grilled beef burgers—seasoned with Caribbean jerk seasoning and mango chutney—are topped with grilled pineapple slices and sharp cheddar cheese and served in grill-toasted hamburger buns.
This recipe is an excellent source of protein, niacin, vitamin B6, vitamin B12, iron, selenium and zinc.
Recipe Ingredients:
1 pound 80% lean ground beef
1/4 cup mango chutney
2 teaspoons Caribbean jerk seasoning
4 fresh or canned pineapple slices, cut 1/2 inch thick
4 Kaiser rolls or hamburger buns, split
4 slices sharp cheddar cheese
Cooking Directions:
Combine ground beef, chutney and jerk seasoning in large bowl, mixing lightly but thoroughly. Lightly shape into four 1/2-inch thick patties.
Place patties in center of grid over medium, ash-covered coals; arrange pineapple slices around patties. Grill, covered, 8 to 10 minutes (over medium heat on preheated gas grill, 7 to 9 minutes) until instant-read thermometer inserted horizontally into center registers 160°F (71.1°C), turning occasionally. Grill pineapple, covered, 8 minutes or until heated through. (Gas grilling times remain the same.) About 2 minutes before burgers are done, place rolls, cut sides down, on grid. Grill until lightly toasted. During last minute of grilling, top each burger with cheese.
Place 1 burger and pineapple slice on bottom of each bun. Close sandwiches.
Makes 4 servings.
Test Kitchen Tip: Cooking times are for fresh or thoroughly thawed ground beef. Color is not a reliable indicator of ground beef doneness.
Nutritional Information Per Serving (1/4 of recipe using 80% lean ground beef): 553 calories; 27 g fat(11 g saturated fat; 7 g monounsaturated fat); 101 mg cholesterol; 865 mg sodium; 44 g carbohydrate; 2.1 g fiber; 32 g protein; 6.9 mg niacin; 0.4 mg vitamin B6; 2.3 mcg vitamin B12; 4.5 mg iron; 40.6 mcg selenium; 5.9 mg zinc.
Recipe and photograph provided courtesy of The Beef Checkoff.