Cheese Packets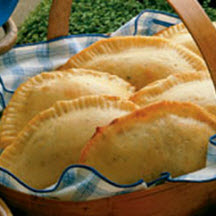 These tasty little meat and cheese-filled turnover sandwiches make great picnic fare as well as a fun and tasty entrée to serve anytime. Complete the meal with a green salad and your favorite beverage.
Recipe Ingredients:
2 1/2 cups all-purpose flour - divided use
1 (0.25-ounce) package active dry yeast or 2 1/4 teaspoons
1 teaspoon dried sage, crushed
1/2 teaspoon salt
3/4 cup warm water (115°F to 120°F | 45°C to 50°C)
2 tablespoons cooking oil
1 1/2 cups shredded mozzarella cheese
1/3 cup freshly grated Parmesan cheese
6 ounces salami*, chopped
1 small tomato, peeled, seeded, and chopped
1 egg
1 teaspoon water
Cooking Directions:
In a large mixer bowl, combine 1 cup of the flour with the yeast, sage, and salt. Add the warm water and the oil. Beat with an electric mixer on low speed for 30 seconds. Beat on high speed for 3 minutes. Stir in as much of the remaining flour as you can. Turn out onto a floured surface.
Knead in enough of the remaining flour to make a moderately stiff dough that is smooth and elastic (6 to 8 minutes total). Place the dough in a greased bowl; turn once. Cover and let rise in a warm place until the dough has doubled (45 to 55 minutes).
Meanwhile, make the filling. In a small mixing bowl, combine the cheeses, salami, and tomatoes. Toss until well-combined; set aside.
Punch the dough down; divide into 6 pieces. Cover and let the dough rest for 20 minutes.
Preheat the oven to 375°F (190°C).
Roll each piece of dough into a 7-inch circle. Spoon 1/2 cup of the filling onto half of each circle. Combine the egg and water, and brush over the outer edges of the dough, to moisten. Fold the circle in half; use the tines of a fork to seal the edges. Place on a greased baking sheet. Prick the tops and brush with more of the egg mixture.
Bake for 25 to 30 minutes or until golden. Remove from the baking sheet; cool on a wire rack.
Makes 6 servings.
*Or substitute with other cooked meats such as ham.
Recipe and photograph courtesy of Wisconsin Milk Marketing Board, Inc.