Cheese Steak Sandwich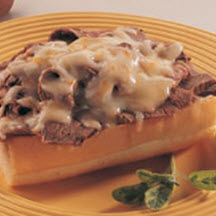 Beef flank steak is marinated overnight in a flavorful marinade, broiled, sliced and layered onto a split loaf of hot cheesy, garlicky French bread. Recipe by Chef Goose Sorensen.
Recipe Ingredients:
Steak and Marinade:
6 tablespoons vegetable oil
2 tablespoons red wine vinegar
2 tablespoons prepared chili sauce
1 teaspoon Worcestershire sauce
1/4 teaspoon salt
1 tablespoon fresh lemon juice
1 teaspoon seasoned salt
2 cloves garlic, minced
2 1/4 pounds beef flank steak
Cheese Bread:
11/4 cup butter, softened
2 cloves garlic, minced
1 loaf French bread, split lengthwise
2 cups shredded Wisconsin Muenster cheese
Cooking Directions:
For Steak and Marinade: In a bowl, combine first 8 ingredients for marinade. Place steak in non-metal baking dish; pour marinade over steak. Cover and marinate overnight in refrigerator, turning occasionally. Let steak come to room temperature before broiling. Remove steak from marinade; drain off excess.
For Cheese Bread: Combine butter and garlic; spread on cut bread. Sprinkle each half with 1 cup cheese. Cut a large sheet of heavy foil to wrap 2 sandwich halves and spray sheet with cooking spray. Wrap halves, loosely, side by side in foil.
Set oven to broil. Place steak in broiler pan, 2 to 3 inches from top of oven. Broil 6 minutes each side. Remove steak, rest 10 minutes.
Put bread in oven on middle rack. Broil 8 minutes or until cheese melts.
Slice steak thinly, across the grain.
Remove bread. Top grilled bread with sliced beef, garnish with additional cheese if desired, serving open-face. Cut each loaf half into 6 pieces. Serve immediately.
Makes 6 (2-piece) servings.
Recipe and photograph provided courtesy of Wisconsin Milk Marketing Board, Inc.