Cheesy Meatloaf Sandwiches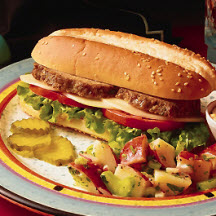 One of the best things about meatloaf is the leftovers to make sandwiches—and this Asiago cheese laden loaf makes one terrific sandwich!
Recipe Ingredients:
Cheesy Meatloaf:
1 pound ground beef
6 ounces ground pork
1 cup grated Asiago cheese
1 large egg
1/2 cup dried bread crumbs
3 tablespoons minced fresh parsley
2 teaspoons whole-grain Dijon mustard
3/4 teaspoon cracked black pepper
1 teaspoon salt
Sandwiches:
1/3 cup mayonnaise
3 tablespoons whole-grain style mustard
8 French rolls
8 leaves of lettuce
2 tomatoes, sliced
16 slices provolone cheese
Cooking Directions:
For the meatloaf, preheat the oven to 375°F (190°C).
In a bowl, combine all of the meatloaf ingredients. Mix well and pack into a 9 x 5-inch loaf pan.
Bake the loaf until cooked through and browned, 55 to 60 minutes.
Remove the pan from the oven and drain the excess grease. Let the loaf cool completely before slicing. Cut loaf into 8 slices.
For Sandwiches: Mix together the mayonnaise and mustard.
Split the rolls and top each bottom bun with lettuce, 2 tomato slices, 1 meatloaf slice, 2 provolone slices, and 1 tablespoon of the mayonnaise/mustard spread. Top with the roll tops.
Serve the sandwiches with potato salad or French fries.
Makes 8 servings.
Recipe and photograph provided courtesy of Wisconsin Milk Marketing Board, Inc.