Classic Reuben Sandwich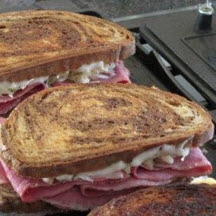 A simple homemade dressing, made with sour cream, chili sauce and just a hint of horseradish, deliciously complements this classic deli sandwich.
Tip: In a rush? Ready-made Thousand Island dressing can be substituted for the homemade dressing.
Recipe Ingredients:
1/2 cup sour cream
2 tablespoons Heinz chili sauce
1 teaspoon prepared horseradish
1/4 teaspoon salt
8 slices marble rye bread
1 cup refrigerated sauerkraut, drained and squeezed dry
16 slices deli corned beef
8 slices Swiss cheese
Butter, softened for spreading
Cooking Directions:
For the dressing combine sour cream, chili sauce, horseradish and salt; blend until smooth.
Spread dressing on each slice of bread.
Spread 1/4 cup of sauerkraut onto 4 slices of bread. Top each with 4 slices corned beef, 2 slices Swiss cheese and cover with the remaining 4 slices bread. Butter both sides of each sandwich.
Preheat a griddle or skillet over medium heat, once hot add sandwiches and cook on both sides until lightly browned and cheese is melted. Serve immediately.
Makes 4 sandwiches.
Recipe and photograph by Hope Pryor; Copyright © 1999; property of CooksRecipes.com. See Terms of Use.