Deli-Garden Sandwich Round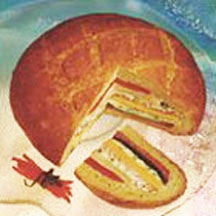 Made in advance, this is a great party sandwich that's terrific for tailgating and picnicking, too.
Recipe Ingredients:
1/2 cup spoonable salad dressing or mayonnaise
1/4 cup cucumber, seeded and finely chopped
1/2 teaspoon basil leaves, dried and crushed
1 loaf (1 1/2 pounds) round sourdough bread
6 slices each salami, American cheese and roasted turkey
6 rings each green and red bell pepper, red onion
Cooking Directions:
Mix salad dressing, cucumber and basil; refrigerate.
Cut slice from top of bread loaf; remove center, leaving 1/2-inch shell. (Discard removed bread.)
Layer salami, green bell pepper, half of salad dressing mixture, cheese, onions, remaining salad dressing mixture, turkey and red bell pepper.
Cover with top of bread loaf.
Wrap in plastic wrap.
Refrigerate 3 hours or overnight.
Cut into six wedges to serve.
Makes 6 servings.
Recipe and photograph provided courtesy of The Association For Dressings and Sauces.