Eggplant Sandwich with White Bean and Gorgonzola Spread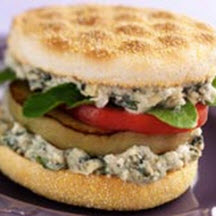 An exceptional Italian-style sandwich with eggplant, white beans, arugula, tomatoes, fresh herbs and a tasty gorgonzola spread.
Recipe Ingredients:
4 slices (1/2-inch thick) eggplant, peeled
Olive oil as needed
1 (3-ounce) package Wisconsin Cream Cheese
1/3 cup grated Wisconsin Parmesan cheese
1/2 teaspoon minced garlic
1 (15-ounce) can cannellini or other white beans, drained, rinsed and crushed
1 1/2 cups Wisconsin Gorgonzola cheese
2 tablespoons chopped fresh parsley
2 tablespoons chopped fresh basil
Peanut or olive oil
4 English muffins, halved, brushed with herb oil
Fresh arugula leaves
4 slices tomato
Cooking Directions:
Brush eggplant slices with olive oil; set aside.
Whip cream cheese until smooth; add Parmesan cheese and garlic, blending well. Fold in crushed white beans; stir to combine. Gently stir Gorgonzola cheese. Blend Gorgonzola cheese, parsley and basil into cream cheese mixture; set aside.
In a large skillet, brown eggplant slices in a small amount of peanut or olive oil.
Broil or toast English muffins until lightly golden; spread each half with approximately 2 tablespoons of Gorgonzola spread. Top each with 1 slice cooked eggplant, arugula leaves and tomato slice. Top with other half of English muffins to make a sandwich; cut in half before serving.
Makes 4 servings.
Recipe and photograph provided courtesy of Wisconsin Milk Marketing Board, Inc.