Garlic Roasted Eggplant Sandwich with Feta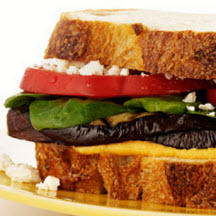 A Mediterranean-style eggplant sandwich with roasted red pepper hummus and feta cheese on rustic black olive bread.
Recipe Ingredients:
2 tablespoons olive oil, plus additional for baking sheet
1 very large eggplant
12 slivers garlic
Salt and ground black pepper
3/4 cup purchased roasted red pepper hummus
8 slices rustic black olive bread
1 cup fresh spinach leaves
8 thin slices tomato
1 cup crumbled Wisconsin Feta Cheese
Cooking Directions:
Preheat oven to 375°F (190°C). Brush baking sheet with olive oil. Set aside.
Wash eggplant and remove stem. Cut eggplant horizontally into 8 slices, approximately 1-inch thick. Place on baking sheet. Press 2 slivers of garlic into each eggplant slice. Salt and pepper slices to taste. Drizzle olive oil over slices. Bake 25 minutes. Keep slices warm.*
Spread hummus, dividing equally, over 4 slices of the bread. Top each with 2 slices of eggplant. Cover with fresh spinach leaves and 2 slices each of tomato. Crumble the feta over the tomatoes and top each with remaining bread slices.
Serve immediately.
Makes 4 servings.
*May be served at room temperature as well.
Adapted recipe and photograph courtesy of Wisconsin Milk Marketing Board, Inc.